Dario Pegoretti recounts his first bike: "I sold it in maybe 1977 and now it has come back to me. I had to buy it back, it was part of my life." Which pretty much sums up whats going on here.
This bike previously owned by me nearly 30 or so years ago has received a new lease of life. The objective was to build a bike to be ridden a lot which meant the exisitng drivetrain had to go. It seems at some point I had replaced the Campagnolo rear mech and friction shifters with an SIS Shimano setup, it probably seemed like a good idea at the time. The finished article blends old and new, maintaining the original aesthetic but with the benefits of a modern drivetrain and wheels. And for this reason, some parts were retained along with the existing patina, rather than completely restoring the finish.
A polished alloy Campagnolo Potenza groupset acknowledges the heritage of the bike, 32 spoke Campagnolo Record hubs with TB14 polished box section rims contribute to the retro look. I've sourced a new Selle Italia Turbo seat and a very nice vintage Campagnolo seat post. White bar tape and cables on the period correct handlebars, and this bike looks much as it did back in the day, but with all the benefits of modern technology. Handling of these bikes was legendary, now much improved on the wider rims and modern rubber.
This machine sparkles and gleams as it goes down the road and attracts its fair share of compliments which is a nice bonus, earning the name "Bling" as a result.
The craftsmen entrusted with the restoration have both done exceptional work and been fantastic to work with. If you are in the area and have something in mind for your ride, definitely have a chat.
Of Campagnolo drivetrains it is said they wear in rather than wear out and this is proving to be the case. Changes have always been smooth but the effort at the levers is becoming less. It's not Shimano levels of effort yet, however I can imagine that with more kilometres, it will continue to improve. Current tires are Pirelli Cinturato which are fast, grippy, puncture resistant and a good choice for local backroads.
Resources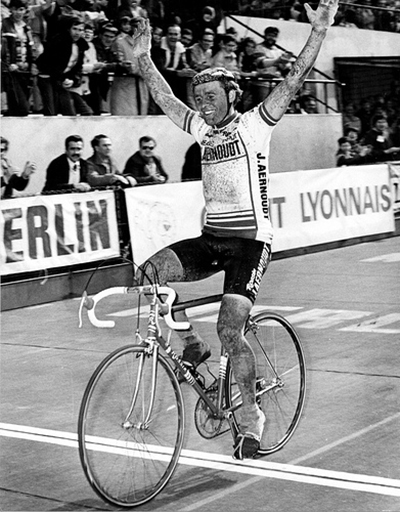 Historic footnote – Paris-Roubaix 1983.
Former pro cyclist Hennie Kuiper is at the end of a long day aboard his Rossin Record.
He has a slight gap on a small bunch including Moser, Gilbert Duclos-Lassalle, Marc Madiot and Ronan De Meyer and is heading towards victory at Roubaix.
While arguably not the fastest rider in his day he had a good tactical sensibility creating a break inside the last 16km. No one in the bunch wanted to lead a chase and he was able to maintain his lead to the finish despite a flat tire. He managed 247km at over 40km/h for the win including two crashes and a stop for a mechanical issue. This is an excellent example of if you don't have the biggest hammer be the sharpest nail and the sort of thing that Kuiper did well enough to pull off some big wins over the years. Chapeau.
Kuiper famously rode Rossins during his career which corresponds to the golden age of the venerable Record and probably the Rossin company itself.