2020 was intended to be the year of the Noosa Strade Bianche, Taupo and l'Eroica in Gaiole with a few local brevets thrown in to ensure the legs were up to the challenge. Frank was built with these events in mind and was working out well. The first brevet of the year was conducted on board Frank under a thick blanket of smoke as the country burned, and then of course, Covid emerged shutting down everything worldwide.
So, with a bit of time on my hands, and when a magnificent Rossin Columbia frame appeared for sale, I enquired and then acquired.
The frame appeared to be in excellent original condition, rocking a very loud 80's paint job. Turns out the paint scheme is in the colours of the Colombian flag, the bike advertised as the Rossin-Columbia. I have no idea what the connection is, yet. While there is evidence of being well used, I decided the original finish would be good enough, and left it alone. After due consideration and lacking a better idea, this bike has obviously been dubbed "Red". Of course it's also blue and yellow (and now I know why), so Red it is then.
The Strada Professional on which it's based is a mid 80's reimagining of the by now venerable Record and shares the same basic architecture. Typically SLX tubing is used for a lighter frame and a larger bottom bracket shell is fitted to improve power transmission. Later variants (RLX/Ghibli) had a more elaborate bottom bracket, internal cable routing for the rear brake and different lugs and fork crown compared to earlier versions. Handling was more responsive compared to the Record SL that preceded it, without compromising the ride.
Red is equipped with a Campagnolo Potenza gruppo, with 36/52 x 29 gearing. Campagnolo Scirocco wheels roll for days and are almost silent. Handling is precise and confident on Pirelli rubber. The cockpit is the same as Bling, Giro bars, 130mm Cinelli 1A stem and grippy Zipp CX bar tape.
You might imagine all three bikes to be much the same and from the perspective of ride and handling, indeed they are similarly confident and comfortable. However, at the same time they have different strengths.
Bling, the original 80's race bike is a more relaxed ride now with compact gearing. It no longer urges you to attack every hill or smash every descent as it once did. It is equipped with a super granny gear for really big hills, and will sit on the back of a bunch at a comfortable 30-ish km/h.
Frank has long legs and will climb any hill, perfect since it was setup for brevets and gravel with big tires and low gearing. Being old school, you need to pay attention with downtube shifting to ensure changes are sent to the engine room with plenty of notice, especially if ascending. Frank will gallop down the road if prodded, but doesn't really encourage smashing down the road for fun. It's just not in his nature.
Red however is a party on wheels. It encourages being wound out (avanti, forza). With even taller gearing than the other bikes it somehow ascends without drama. Acceleration is remarkably brisk. And it will insist you attack descents and corner with gusto at the appropriate time. It seems this bike may be the best of all worlds.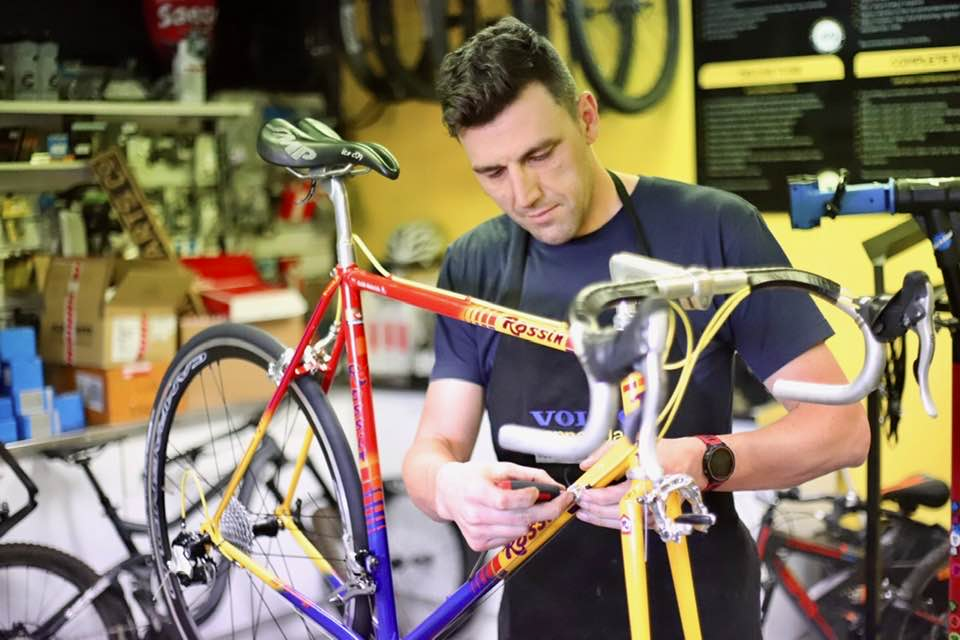 Red is another build from Adam at Le Service Course who has added some nice touches and paid great attention to detail putting it together. Support your local LBS. We need more guys like Adam.